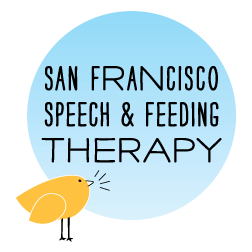 Some people dream of success. We make it happen.
San Francisco Speech and Feeding Therapy services include:
Receptive & expressive language delays and disorders
Articulation & phonological disorders

Motor speech disorders (apraxia & dysarthria)

Social pragmatic deficits

Nonverbal communication using AAC (alternative & augmentative communication)

Autism spectrum disorders

Auditory Processing Disorders

Oral motor therapy

Feeding therapy
Mairead Finn is a licensed Speech Language Pathologist (SLP) who has worked with children and adults with special needs for over 10 years in residential, recreational, school and therapeutic settings. She earned her Bachelor of Arts degree in communicative disorders with a minor in special education from San Francisco State University and her Master of Science degree in speech and language pathology with an emphasis in Augmentative and Alternative Communication (AAC). Mairead's treatment approach integrates her professional training in:
ABA (Applied Behavorial Analysis)

AAC (Alternative and Augmentitive Communication)

PECS (Picture Exchange Communication System)

DIR (Developmental Individual-difference Relationship-based model) Floortime

SOS (Sequential Oral Sensory Approach to feeding)

Oral Placement Therapy
EARLY INTERVENTION IS ESSENTIAL FOR YOUR CHILD'S DEVELOPMENT.
"Mairead Finn is a miracle worker. She is an excellent resource for all feeding issues, and developing a comprehensive therapy program. My child was diagnosed with low tone and this was affecting his ability to digest food. The doctors were recommending for him to have a feeding tube. Luckily, we found Mairead at the right time. She calmly introduced a program that was manageable for all of his caregivers. My child is thriving. He is able to eat all foods, and is gaining weight. We could not be more pleased with his progress. Mairead is a true find."
-S.K., parent of 3-year-old child